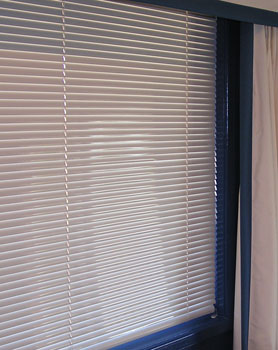 Our Aluminium Venetians come in a slimline 25mm blade width, making them ideal for recessess that don't have a lot of space. They are available in a wide range of colours.
Aluminium Venetians come with a spring lock operated cord control to lift the bades up and down, and a wand control that you twist to rotate the blades open and shut while the blinds are down.
Our Aluminium Venetians are 100% UV protected and Water Proof, making them ideal for wet areas. They are also popular for offices.
Call now on (07) 38182949 to organise a representaive to come out and show you a sample and a colour swatch.