We can do a wide range of patterns and designs in Welded Steel Security.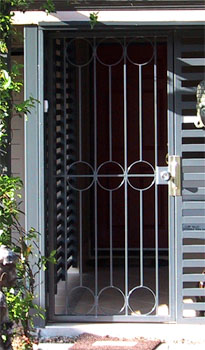 Bars for Windows
If you have Casement Windows and you do not want the Window Exchange option, Steel Bars are the next best option. They sit on the inside of the windows, so the casement panels can open out. The gaps between the bars allow you to get through and use the window.
The downsides are that you have to organise a separate fly screen, the look of the bars may not be to your liking, and it is a potential fire hazard having bars across the full opening on every window. If this is an issue, you can set one up as hinging fire exit grille.
The window steel grilles are usually made from 25mm box steel top and bottom running horizontally, with 10mm solid steel bars welded to the box steel vertically at 100mm spacing. They can have fixed legs or adjustable lugs to fix them in place. They can come with decorative scrolls between the bars if required.
To see the scroll patterns click here: Steel bar insert options
Highlite Steel Doors
For your front door, if you after a fancy door and the Colonial Castings Patterns aren't to your liking, we can custom make a Highlite Steel Door to one of our patterns, to your front door pattern, or another pattern all together. We can weld together a combination of steel sections to create any pattern desired.
The steel insert once finished is fixed into an Allow Frame, so we can put fly screen mesh and lock onto the door.
For pattern ideas click here:
Once welded together, the steel is either Galvanised or Zinc Plated to avoid rusting. It is then powder-coated to give it any colour finish you desire.
nstall options are similar to those outlined in the 7mm Diamond Security Section.
For more information or to organise a free quote call now on (07) 38182949.