Fly Screens – Brisbane & Surrounds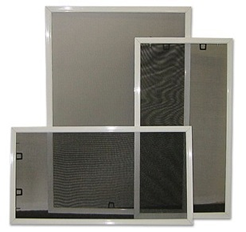 There are many safety reasons to invest in screens for your doors and windows that focus on security. Fly screens on their own, however, may be the option for you if you are only interested in keeping the insects out, or your budget simply doesn't extend to products with security capabilities. Fly screens do the basic function of keeping out insects, but they do not keep you secure. With this budget-friendly option, if the mesh wears down over time, it can be easily and inexpensively replaced, keeping your home protected from flies and mosquitoes while you let the fresh air in from the outside.
The standard mesh we use for all fly screens and doors is Fibreglass Fly mesh, which lets the most light and breeze through at the cheapest cost. We can also use other more expensive options including the Polyester Pet Mesh if you have pets that are tough on the mesh, or Aluminium & Stainless Steel Metal Fly Screen Meshes if you have to meet with Bushfire Ratings (BALs).
The fly screens and doors are comprised of this black woven mesh, held in place with rubber spline into aluminium frames. The frames themselves are available in a range of different colours. The overall effect is that they do not spoil the view from either inside the house looking out, or the external look of the house when looking in.
This option is significantly cheaper than security, magnetic fly screens or retractable fly screens.
Other Types of Fly Screen Meshing – for both Fly Screens & Diamond grille Security
Depending on where you live, the size of insects you would like protection from, or the way your security fly screens and doors may be used in your household, you may need a more specific type of mesh.
Sandfly and Midges – If you live in damp surroundings, or where there is freshwater nearby, you may need to purchase a Sandfly and Midge mesh. This is a fiberglass mesh that is created with smaller holes which trap these tiny insects and prevent you from those itchy bites which may linger for a week or more on your skin.
Pet Mesh – Fly screens can take a real battering when habitually scratched at by dogs or cats, who just want to tell you that they want to come inside. To help prolong the lifespan of your fly screen on those frequently scratched window and door screens, we can provide a tougher and thicker Polyester mesh. This is covered with an acrylic coating to help stand up to the frequent pet pawing.
Aluminium & Stainless Steel Fly Meshes – For those whose homes are located nearby to bushland and for safety reasons require fire rated screens, we recommend using the aluminium and stainless steel fly meshes in your fly screens. These specialty fly screen metal meshes comply with BAL regulations and give you greater peace of mind when living in close quarters to fire-hazard environments.
At You're Secure, we have more than two decades of experience servicing homes just like yours around South-East Queensland. Although we offer a large number of choices, we can help you simplify the process of selecting your fly screens. We easily assist you with zeroing in on the right product for your taste, environment, budget and lifestyle needs.
We custom manufacture all fly screens and doors so that they are the exact measurements of your home's door and window openings. One of our in-house experts then expertly fits them for you. But if you prefer and want to save further, we give you the option to fit the screens yourself.
We are based in Ipswich, Brisbane and service all of South-East Queensland: from the Sunshine Coast to the Gold Coast everywhere in between.
Call us now on (07) 3818 2949 to arrange for a You're Secure representative to come to you for a free quote.