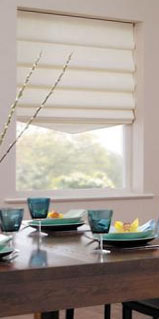 Roman Blinds are another elegant blind solotion and give a similar look to Panel Glide Blinds when they are down. You have the Fabric and Batten options you have outlined in the Panel Glide Section. However instead of sliding and stacking from one side of the opening to the other, they are a straight drop blind and move up and down on the opening.
You have the choice of a Spring Operated Lock system, a Cord Pulley & Cleat System, or a Chain Control System to move the Roman Blinds up and down. As you move them up or down, they casecade up or down with the battens as the fabric moves. This makes them ideal for windows, but no so good for doorways where the collection of fabric at the top may get in the way. That is why in general, Panel Glides work best on doors while Romans work best on Windows.
Call now on (07) 38182949 for one of our representatives to come out and show you samples and give a free quote.