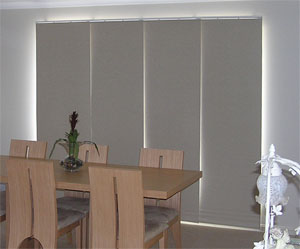 Panel Glide Blinds are an elegant covering for your windows and doors. They work in a similar fashion to a stacker door in that you have multiple panels all linked together that cover the full opening. When you move the outer panel open or closed, it brings the other panels with it. You can have 3 to 5 panels on a single bunch, or 6 to 10 panels on a double split/bunch.
Other options include choosing from a wide range of fabrics, patterns, colours, and battens. Most customers choose to have horizontal battens on each panel to help break up the fabric and give it a unique look. There are 6 different natural shades of timber battens, 2 painted timber battens (White or Black), 3 aluminium battens (White, Black or Silver), or you can choose to have no battens at all.
Panel Glide Blinds work best on doors, because they can can stack and slide right out of the way. They can also work on larger windows, but for windows narrower than 1500mm a Roman Blind would work better.
Call now on (07) 38182949 to organise a representative to come and with some samples and give you a free quote.