Integral Stainless Steel Security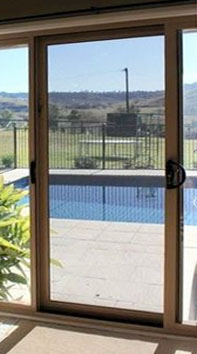 There are a number of different brands of Stainless Steel Security on the market. They all use some sort of a mesh that doubles as fly and security screen. Where they can differ is the type of mesh thay are using and how they are manufactured.
The Integral is made up of a 316 Marine Grade Woven Stainless Steel Mesh held into an Aluminium Frame with a 'interlock & keeper' lock-in section either side of the stainless mesh. The sections lock the Stainless in place but keep it separate from the Aluminium so there is no chance of corrosion. Integral comes with a 10 year corrosion warranty.
Look of the Integral
The Stainless Mesh is both the fly screen and the security screen. This makes it look like a normal fly screen or door, and doesn't ruin the view with any bars or grilles. The Woven Mesh lets a lot more light and breeze through and is easier to see through than a perforated mesh.
Security of the Integral
The Integral is the best security you can get. The Stainless Mesh is very tough and can't be pushed or cut through. Because it only one sheet of mesh, there is no where for someone to grab onto the door or get a cutting tool in to cut the mesh. It passes the Australian Security Standards for Stainless Steel including the weight, impact, shear, tension and jimmy tests.
For residential customers on Integral, we give our Break in Guarantee which states: 'We 100% guarantee you that our Integral Security has superior strength, superior design and an 'Alcatraz' like installation. If an intruder ever breaks into your home through our Integral Security, we will pay your insurance excess up to $500′.
By 'ever' we mean for as long as you are living at your home no matter what the length of time, we will pay your excess if anyone gets in through the product while you are living at the house. This does not apply for rental, investment or commercial properties.
We have never had to pay this guarantee out on Integral yet! No other company gives this guarantee or stands behind their product and installation in this way.
Corrosion is a big issue with Stainless Steel Security. Any brand of Stainless Steel not using a 316 Marine Grade Stainless Steel may be susceptible to corrosion. Any brand that screws, fixes, rivets or clamps the Stainless Steel Mesh into the Aluminium Frame, leaving the 2 different metals touching each other may also be susceptible to corrosion. Any brand that doesn't have a 10 year corrosion warranty you should not purchase.
Integral has this warranty, but its interlock & keeper design has meant that it is yet to experience one single case of electrolysis.
The main downside to Integral and any decent Stainless Steel brand is how much it costs. It is 2-3 times more expensive than the A127 diamond security, which puts some people off it. You can mix and match between the different types to save money. Some customers put Integral on the Front of the house and the important Living areas only, putting the 7mm Diamond Security on the rest of the house.
For Install options, the details are the same as outlined in the 7mm Diamond Security Section.
For more information or to organise a free quote call now on (07) 38182949.